YUMMY WINTER TREATS
As a Brit I'm always very jealous at this time of year of Thanksgiving! It all looks so scrumptious! So when I stumbled across the recipe for Honeyed Pumpkin Chocolate Chip Cookies in my local COOP magazine I just have to give them a go! After all biscuits are my FAVOURITE thing.
I also get to use my fab new Lauren's Cows Oven Gloves!
These cookies are honestly so delicious and super easy to make. So they're great for getting the kids involved with. Grab your pinnies and let's get started!
---
INGREDIENTS
80g pumpkin (or butternut squash) purée
130g unsalted butter, melted and cooled
2 tbsp clear honey
200g plain white flour
120g Fairtrade caster sugar
½ tsp bicarbonate of soda
5 cardamom pods, black seeds finely crushed
1 tsp ground cinnamon
100g milk chocolate chips
1½ tbsp pumpkin seeds
---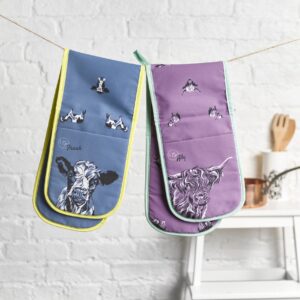 YOU WILL ALSO NEED
OVEN GLOVES FROM LAUREN'S COWS | £24
I am in love with our new double oven gloves. With a Highland Cow pair featuring happy couple Ally and Fergus and a Dairy Cow Pair featuring Friesian cow mother and son Maggie and Frank, there's a pair for every home!
---
LET'S GET BAKING!




---
Grab a bowl and whisk the pumpkin purée (I found a can at my local Sainsburys but you can also make your own), with the melted butter and honey.
In a different bowl, mix the flour, sugar, bicarbonate of soda and spices.
When that's done take a wooden spoon and mix the dry ingredients into the wet.
Add the chocolate chips and continue to mix until everything is just incorporated.
Now it's time to relax with a nice cuppa as the cookie dough needs to chill for at least 20 mins.
Preheat the oven to 170˚C/fan 150˚C/gas 3 and line two large baking sheets with grease proof paper.
---
Time to get those cookies on the tray! Use an ice cream scoop to portion mounds of dough, you may need a teaspoon to help get the dough off the scoop! You don't need to flatten them out as they spread into biscuits in the oven, but make sure to space them out nicely so they don't run together.
Sprinkle the pumpkin seeds on top (I left some seed free for my toddler)
Now grab those gorgeous new oven gloves and get the trays in the oven.
---
Leave to cool a little on the trays, then move to a wire rack to cool completely.
Now enjoy! For ultimate yumminess make sure to have one while they're still warm with a glass of your favourite milk or a nice cup of tea!