Lauren's Gift Guide for Christmas
It can be hard finding theideal Christmas present at this festive time of year, no one likes panic buying or giving 'make-do' presents. So I thought I'd put together a few ideas to help a long the way. Whether it be a stocking filler for children, secret santa gift for a colleague, or special present for a loved one I'll help you pick the perfect cow for the perfect person.
Secret Santa
Secret Santa is becoming increasingly popular with Workplaces big and small partaking in the festive fun! The trick is to find a great present on a budget. My recommendations, a beautiful box of Cow Coasters or a stylish mug for the Office.
Presents by post
Posting gifts is always tricky, nothing too heavy, nothing too big, nothing too fragile. My favourite thing for popping in the postbox are my screen print tea towels. Squishy, and light you can post with confidence!
Gifts for couples
Let face it, it sometimes easier to kill two birds with one stone and spend a little more on a joint present. This is where our placemats and coasters really shine.
A top quality gift for the home that the whole family can enjoy.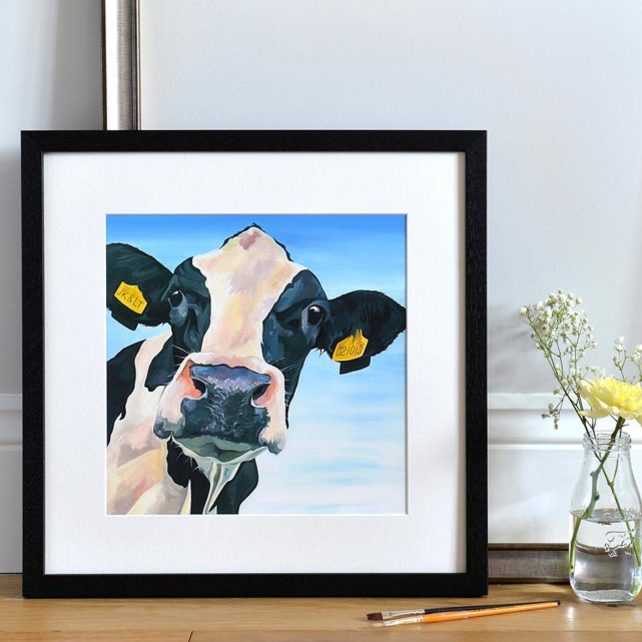 For The Wow Factor
No matter who you are, we all deserve a bit of indulgence once in a while, and we all love to give a gift that leaves someone speechless. An original acrylic painting is sure to do that! Whether it be from The Herd or a bespoke commissioned piece a Cow Painting is a great way to spoil your loved one (or indeed yourself!)
We have the perfect present for everyone on your list this Christmas. So get snuggled up warm this Winter and find your gifts from the comfort of your own home!
Happy Cowmas!
Stocking Fillers
Who doesn't love a Christmas Stocking on Christmas morning. We still do them in my family and I'm the youngest at 28! It's all about finding a little treat to make you smile so you need look no further than a Lauren's Cows magnet. Be it a cow for all year round, or festive themed the choice is yours! A tiny piece of art for the fridge- kids love them too!
For Someone Special
Whether it be a doughly eyed Jersey or a magnificent Highland cow art prints make a wonderful gift, especially when it makes you smile every time you see it, as our cows do! A gift that will be appreciated everyday and last a lifetime
A gift from the kids
If you are a parent with little ones it's sometimes hard to find the balance between finding a present that the adult will love recieving but that the children will be equally excited to give. Well personalised prints are what you're looking for! I will hand finish your prints with the details of your choice.