RHS MALVERN SPRING FESTIVAL!
We're heading to Worcestershire to take part in the Royal Horticulture Society's spring flower show.
Join us for a fantastic weekend of gardens, talks from the experts and of course shopping!
5th-8th May 2022
Three Counties Showground
Malvern
WR13 6NW
---
We are incredibly excited to be joining one of the UK's largest horticulture events for the very first time. Sister to Chelsea Flower Show this event is not to be missed. Boasting one of the largest shopping areas of any RHS show, we shall be setting up in the members arcade. This years theme is celebration and we certainly have something to celebrate as I reveal the NEW Lauren's Cows painting!
SO WHAT'S TO SEE?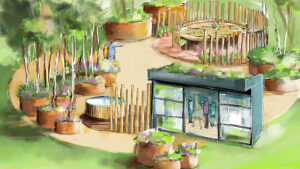 EXPLORE THE SHOW GARDENS
I'm particularly intrigued by 'The Vitamin G Garden', the brainchild of radio presenter and keen gardener Jo Whiley. This tranquil space is inspired by evidence that proves how gardening benefits our mental, physical and social wellbeing.
Featuring an art studio opening out onto a meditation platform and plunge pool, it sounds like my kind of thing!
Just what we need to recoup from an action packed weekend.
---
TOP TALKS FROM THE GREATS
Each hosted by a well-known gardening personality and feature fascinating tips, daily demonstrations and question and answer sessions.
Visit the Grow area for expert advice from the national specialist plant societies. Plus you can get involved in the Grow to Show competitions where the top gardeners show off their best garden produce.
---
FILL YOUR TUMMY
We've heard there's a wide range of food and drink on offer around the showground.
Find delicious British food and yummy international cuisine, sample homemade and artisan products in the Food and Drink Pavilion, drop by Festival Green for flavourful street food. Feeling full? Remember to save room for tea and cake at the Vintage Tea Room.
---
RETAIL THERAPY
My favourite bit! Malvern is the perfect place to browse and buy something for the home and garden. They have the highest standards when it comes to their exhibitors so you know you're getting something fantastic.
Whether it's pansies or paintings, trees or tea towels, gin or jugs there's something for you!